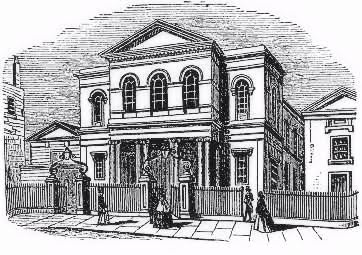 New Park Street Baptist Chapel
Dr John Gill's greatest work was the nine volumes he authored of his Exposition of the Bible. All nine volumes are presented on this website with full Bible navigation and linked verse references.
Dr Gill was a Baptist pastor and served his congregation for 51 years. During this time, he became a prolific author. In 1757 his congregation needed larger premises and moved to Carter Lane, St. Olave's Street, Southwark in London, England. This Baptist church was once pastored by Benjamin Keach and later became the New Park Street Chapel and then the Metropolitan Tabernacle, pastored by Charles Spurgeon.